Kunnakkudi was darling of masses.
He took muisc to people.
Not that he was an artist of lesser class.
He was a master of his art!
He chose to leave aside the serious music and make it people friendly.
He served the cause of music till his last breath.
It appears he used to pay monthly salaries to his team of accompanists!
Incredible!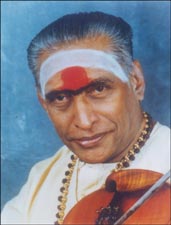 He was vigorous kind of man.
I attended some of his concerts when he was still serious with Carnatic Music.
I thoroughly enjoyed his music.
I cannot forget the lengthy Kharaharapriya that he presented at one of those places in Chennai.
He would start with his trade mark Kumkum and Vibhooti on the forehead.
After a few item later, all that would be gone!
He would change the bow a couple of times during the 3 hour concert.
The Violin would be full of white podwer that remains of the worn out bows!
I still enjoy his music.
Here is an album from my old collection.
List:
01-Vinayaka-Hamsadhwani.mp3
02-Enta-Vedukondu-Saraswati_Mnaohari.mp3
03-Vallinayakane-Shanmukhapriya.mp3
04-Tani.mp3
05-Western_Note.mp3
06-Tenmanakkum.mp3
07-Malai_Vannamalai.mp3
08-Tiruppugazh.mp3
Link:
http://www.mediafire.com/?sharekey=10f3f26dc390f408ab1eab3e9fa335ca8dc8c015bb6ca4fe
Let us enjoy good music!
@@@@@@