I am enjoying this work of converting old cassttes to mp3s
Joy is much more in sharing the material with friends!
This radio Drama
"Annamayya" with Sri Balamurali and Ratnam garu in lead roles
, is an interesting find, I should say!
A real vintage Drama.
May be 60s!
People should tell me!
Both, Balamurali and Gopalaratnam sound so young!
So are all the others.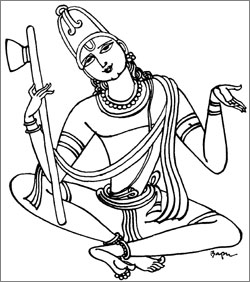 Some of the songs that we listen today are sung in different ragas in this drama.
You will sure like it.
As for the story, it is anybodies guess.
There is not much of documentation about the saint composer Annamayya.
There are only a few anecdote kind of things and each one weaves the story according to own imagination.
Good that there is no visualisation in this like in the stage presenatations and the film.
I remember the unusual scenes and make up in the much acclaimed perormance of a famous dance Guru's opera.
It was horrible to see the thing.
People don't give a thought to the details.
The creation of period is a big challenge in visual media.
Good that what we have here is a radio presenataion.
Voices create the scene.
If you don't ask about the authenticity of the scenes, this is a wonderful creation!
Annamayya - A Radio Drama
Link:
http://www.mediafire.com/?sharekey=10f3f26dc390f408ab1eab3e9fa335ca610250279a45c88d
Let us enjoy good music!
@@@@